Gazelle Finance and "Larar Logistics" have announced the launch of Larar's "Restart" truck repair center.  
9 Օգոստոսի, 2022
"Restart truck service" center of "Larar Logistics" has been launched
"Restart truck service" center provides comprehensive truck repair and maintenance services including truck diagnostics, inspection and replacement of spare parts, tire fitting etc.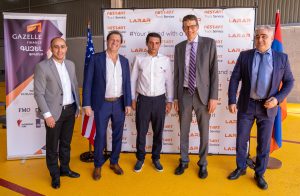 In 2021, Gazelle Finance invested $900,000 in "Larar Logistics", a company that was founded by entrepreneur Artur Ghazaryan in 2017. The use of proceeds was used to increase the truck fleet from 7 to 17 trucks and to complete the construction of "Restart truck service" center. With the expansion of the truck fleet, Larar now has the capacity to transport 10,000 tons of goods and efficiently service this fleet in-house.
In addition, with the support of the Dutch government and FMO, Gazelle Finance provided technical assistance to support the development of the ERP GPS tracking system, which allows the company to monitor and inventory every individual unit of cargo that its transporting at any given time.
"The United States Embassy in Armenia is pleased to commemorate Gazelle Finance's investment in "Larar Logistics" today. Gazelle Finance is a recipient of International Development Finance Corporation investment capital and has important mission to support the development of the SME sector in Armenia," said Deputy Chief of Mission Chip Laitinen.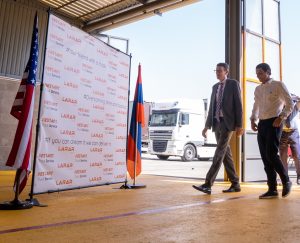 "Gazelle Finance's capital not only helped us to rapidly scale our business, but it is combined with value-add services like the provision of an ERP GPS tracking system, which helps us plan just in time deliveries for our clients.
This investment allowed us to shift from just a freight forward and broker, to become a vertically integrated, full-service trucking and logistics company, including our own truck servicing and maintenance facility, which is much more cost efficient than outsourcing to a third party," said Artur Ghazaryan, the Founder and Director of "Larar Logistics".
For more information please follow the links below:
https://banks.am/en/news/newsfeed/24323