Tigran Hovhannisyan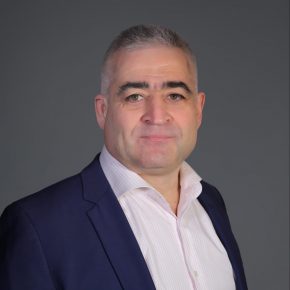 Tigran Hovhannisyan joined Gazelle Finance in May 2020 as the Chief Investment Officer for Armenia.
He brings in almost 25 years of experience in Banking and Finance. Tigran has PhD in Theoretical Physics and an MBA, Finance and OPIM, from Wharton Business School. He speaks Armenian, Russian, English and some German; enjoys martial arts, swimming and history.
Tigran was a founding member of the first investment banking group in Armenia – Cascade Capital Holdings and the founding head of Cascade Credit UCO. He then worked in equity and debt research with some of the top investment and commercial banks in Russia, including Troika Dialog, Uralsib Capital, Bank of Moscow, and VTB.  In 2017 he returned to Yerevan as the founding head of HSBC's distressed assets unit (reporting to CEO), before finally joining Gazelle Finance. In 2019 his team at HSBC Armenia was recognized as the best for generating c. 20% of Bank's normalized (real cash) net Income for FY2019. Tigran started his banking career in 1995 among the first 14 local staff to start HSBC Armenia Bank. His career with HSBC Group includes the secondment to then BBME Dubai and the internship with HSBC Republic in New York.
As a Senior Public Research Analyst in Moscow, Tigran covered over 20 Russian stocks in FMCG, Retail, Agro, Pharmaceutical, Real Estate Development and Construction sectors. This involved supporting a few debt and equity issues of USD200-300 mln per issuer; and several private placement deals. As an in-house analyst, Tigran covered the sales of Kopeika retail chain to Russia's largest X5 retail group for c. USD1.5bln, providing arguments to boost the sales price by 20%. Later Tigran headed the Industry Analysis at Bank of Moscow. He led the team through the issuance of c USD6bln of long-term structured loans to Russian SME, with over 700 cases analyzed and 100 loans issued. His prudent approach allowed the early discovery of increasing risks in sub-contractor sector and led to proactive recovery of c. USD1.3bln in NPLs just before the 2014 crisis. He took part in the restructuring and recapitalization of VTB LTIF that allowed to recognize c USD600mln in capital gains. 
Tigran serves as an adjunct lecturer of Finance, including at AUA, MSU & AGEC.