Gazelle Finance welcomes H.E. Nico Schermers, Ambassador of the Netherlands to Armenia and Erik Markovs, Economic Officer (United States Embassy, RA) to GMG Group, Gazelle Finance portfolio company, for the receipt of the award ''Brand of the Year''
December 19, 2022
H.E. Nico Schermers, Ambassador of the Netherlands to Armenia and Erik Markovs, Economic Officer (United States Embassy, RA) attended the award ceremony of GMG Group and the signing ceremony between GMG Group and Nout.am, portfolio companies of Gazelle Finance.
GMG Group was established in 2013. Currently is one of the leading door and furniture manufacturers in Armenia. GMG Group has been a portfolio company of Gazelle Finance since 2019. Gazelle Finance financed the renovation of the new production facility of the company and the modernization of its production equipment.
GMG doors has received technical assistance support from the Dutch development financial institution FMO and the Dutch Ministry of Finance's Dutch Good Growth Fund to help to improve the company's financial management and controls, marketing and sales systems.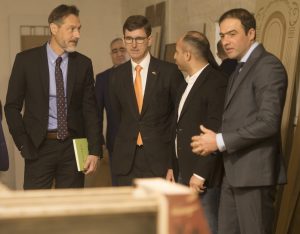 Award Ceremony
The annual award ceremony of "Public Service Provider of the Year" and "Brand of the Year" was held in Yerevan organized by the National Confidence Council. The best Armenian companies participated in this event and were awarded during the ceremony. One of the companies honored was GMG Group which won the category "Reliable Manufacturer of the Year According to the International Standards" based on the results of sociological surveys and expert opinion.
"I was very happy to be present at this event. Congratulations to GMG Group for winning the award", said Nico Schermers, Ambassador of the Netherlands to Armenia. "We really appreciate Gazelle Finance activities in Armenia and their support to business growth of Armenian companies".
It is worth mentioning that GMG Group is one of the oldest and leading manufacturers in the door production market in Armenia. For more than 20 years GMG Group has been providing its customers with locally made doors and furniture of high quality.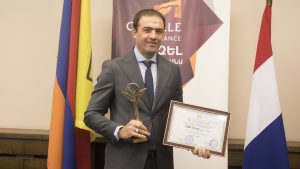 As an outcome of the technical assistance support by FMO and DGGF, GMG commemorated the signing of a joint sales and marketing program working in cooperation with Armenia's leading e-commerce company, Nout.am, which is also a portfolio company of Gazelle Finance.
"Gazelle Finance has a portfolio of over 15 companies in Armenia," said Tigran Hovhannisyan, CIO Gazelle Finance Armenia. "We leverage this network for the benefit of our portfolio companies through such activities as cross-sales and co-marketing of products and services."
The collaboration between GMG Group and Nout.am will create synergies between the two portfolio companies and contribute to their future growth.