Anahit Vardapetyan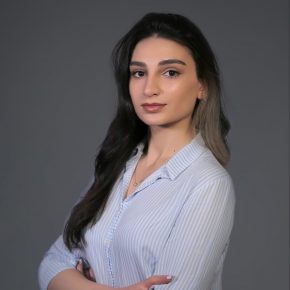 Ms. Anahit Vardapetyan joined Gazelle Finance Armenia as an Administrative and Communications Officer in August 2020.
As an Administrative and Communications Officer Anahit is responsible for effective workflow in the office, including managing business relations with service providers, partners/clients, and the press. Anahit has a technical and analytical background: She is an honor graduate of the National Polytechnical University of Armenia with a Master's degree in Computer Systems and Networking. Her first employer was HSBC Bank Armenia. Throughout 2017-2020, where she assisted the CEO office with structuring and monetizing non-performing assets for over USD20mln, by supporting the team to contribute c. 20% of the Bank's normalized net income in 2019, as a result, awarded with Team of the Year award. During her employment at HSBC, Anahit actively participated in all CSR activities of the Bank, one of the activities was teaching Binary Math and Information Technologies to kids of different ages, hosted by Orran Charitable NGO.
She then transferred to HSBC Armenia IT department, as an IDS Specialist, where she took responsibility for Bank-wide access management, by ensuring the smooth operation of network infrastructures, including branches, ATMs, International & Domestic links etc.
Anahit is passionate about outer space (astronomy) and is interested in User Experience science.